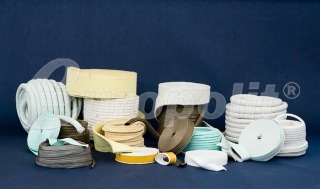 Ropes, sleeves and high - temperature tapes
Europolit is the top manufacturer of ropes and high - temperature tapes in Poland in terms of production volume.
Expanded and modern machinery, as well as a broad range of products, make it possible to satisfy the requirements of even the most demanding recipients.
The company uses the most recent technical achievements in the field of high - temperature fibres by using, apart from popular and economical glass fibres as well as ceramic, high quality aramid, silica and basaltic as well as BIO-TEX fibres.
Assistant of selection of ropes, sleeves and high - temperature tapes
The purpose of the application is to facilitate our products' selection for standard applications to distributors, constructors and end users. Selection is made on the basis of simplified criteria and it is only a guideline when selecting the proper material. Any possible errors in the functioning of the application do not constitute the basis for acceptance of the manufacturer of any legal liability for damages arising as a result of improper product use.