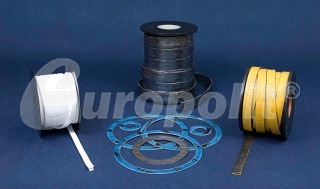 Sealings for flange connections
The seals are produced in the form of self-adhesive tapes from PTFE or graphite delivered on rollers, or flat seals made of properly selected elastomer-fibrous boards, graphite boards, PTFE or of other compositions.
Flat seals are produced in standardized dimensions as well as in any shape according to the drawings of the recipient. Optionally, they may be armoured with acid-resistant steel sheet or copper, both on internal and external diameter.
Gasket material can be delivered in full sheets or cut gaskets. 
Flat gaskets are used mainly to seal flange couplings. Operating pressure, temperature and the medium composition are the most important factors to select the most suitable gasket material. 



see product data sheet

Sealing tapes TGW/P and TGZ/P are produced of expanded mineral graphite, by pressing the cover in a special forming machine. The tape has a unilaterally self-adhesive surface, thanks to which installation is very simple and convenient. It is characterized by good flexibility, resistance to compression, thermal stability and non-flammability, as well as resistance to ageing...

see product data sheet

Sealing tape e-PTFE is produced of pure expanded polytetrafluoroethylene having a structure of micro-porous fibres, obtained in a special process of extrusion. The tape has a self-adhesive surface on one side, thanks to which installation is very convenient. It is characterized by good flexibility, resistance to compression, thermal stability non-flammability and high chemical...

see product data sheet