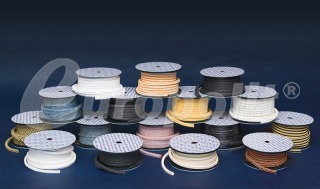 Packings for pumps and valves
Packings are braided diagonally of specially selected yarns from natural, synthetic, -aramid, carbon fibres, graphite as well as PTFE of different kinds.
Some types of packings are impregnated (during the process of weaving as well as on the surface), in order to obtain the required tightness and operation parameters. Packings may be used in dynamic applications such as sealing of glands of pumps, fittings, stirrers or grinders as well as static such as e.g. sealing of hatches, tanks, flaps etc.
Long-term experience of our company in production of braided packings as well as detailed quality control of each batch of products guarantee top quality of our products, which enables their use even in the most demanding and responsible applications for instance in the power sector and chemical plants.
Assistant of packings selection
The purpose of the application is to facilitate our products' selection for standard applications to distributors, constructors and end users. Selection is made on the basis of simplified criteria and it is only a guideline when selecting the proper material. Any possible errors in the functioning of the application do not constitute the basis for acceptance of the manufacturer of any legal liability for damages arising as a result of improper product use.
Packing braided of aluminosilicate yarn reinforced with inconel wire, impregnated with a special lubricating composition, enriched with plenty of graphite. Impregnation of each thread during the process of intertwining causes very precise saturation of packing with impregnant. The impregnant contains petrol derivatives that are being burnt-out at the temperature of + 200°...

see product data sheet

High-parameter valve packing braided of yarn made of natural, expanded graphite strengthened with a braid of inconel netting with very high thermal, chemical and mechanical resistance. Additionally, sealing is enriched with electro-galvanic corrosion inhibitor.

see product data sheet

Packing from yarn from exfoliated pure graphite reinforced with a thin inconel wire. Exfoliated graphite, due to its thermal and chemical resistance, self-spreadable properties and good thermal conductivity is perfect for high-temperature braided packing. Reinforcing the packing with a thin inconel wire improves the mechanical strength and increases the thermal resistance....

see product data sheet