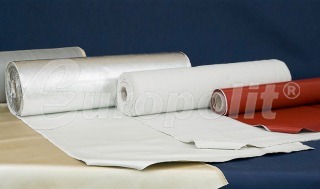 Industrial cloths
Europolit specializes in manufacturing and distribution of specialized technical fabrics for industrial applications.
Glass, ceramic, silica and BIO-TEX fabrics are characterized by a very high thermal resistance, while aramid fabrics - by extreme mechanical resistance.
Glass fabrics may be impregnated with elastomers or coated with aluminum film, which eliminates dusting and increases tightness of material.
Assistant of selection of industrial cloths
The purpose of the application is to facilitate our products' selection for standard applications to distributors, constructors and end users. Selection is made on the basis of simplified criteria and it is only a guideline when selecting the proper material. Any possible errors in the functioning of the application do not constitute the basis for acceptance of the manufacturer of any legal liability for damages arising as a result of improper product use.