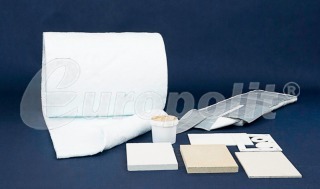 High-temperature boards and mats
High-temperature insulations are produced of ceramic or mineral fibres and properly selected adhesives and fillers. They are characterized by high thermal resistance, low heat conduction, low density and perfect resistance to rapid changes of temperature.
VM type boards, thermal insulation millboards, paper as well as ceramic mats are applied as liners of glass furnaces, ceramic furnaces, metallurgical furnaces, lining of furnace carts, filling expansion gaps, high-temperature seals, casting gutters etc. Flexible insulation covers of OSC type are applied as insulation of heaters on injection moulding machines, insulation of pumps, valves, pipelines, exchangers of heat and many other similar applications.