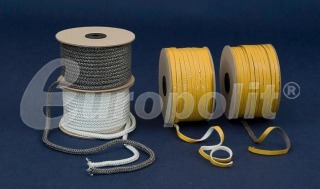 Ropes and tapes for fireplace inserts
Non-flammable fireplace seals are produced of high quality glass fibres in the form of ropes as well as self - adhesive tapes in natural colour or black.
Ropes are used to seal doors, while tapes are installed between the pane and the frame of the door. Modern machinery, perfected technology as well as experience in producing this type of seals guarantee the highest quality both in technical as well as aesthetic terms.
Ropes of ESS/H type are made of textured boron-aluminum-silicon glass, type E , with temperature strength up to 650°C. As a result of applying knitting methods of manufacturing, appropriate softness and flexibility of sealing were obtained, which greatly facilitates installation in fireplace inserts. Impregnation with special high-temperature black dye (version ESS/HC) significantly...

see product data sheet

Glass tapes of type TSP - D are knitted of textured yarn of boron-aluminum-silica glass, type E, with temperature strength up to 650º C. Special production technology provides unique softness and elasticity of the tape, which improves thermal insulation and sealing properties. The self-adhesive layer enables very rapid and convenient installation of sealings on panes or door...

see product data sheet